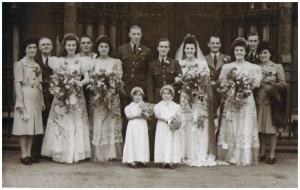 World War II is a time many remember, although the amount of people who actually experienced it is decreasing. That is one reason why it is incredibly important to record your memories, your parents' memories and your grandparents' memories of these times. With this in mind, I am looking forward to helping out on this next project. It is historical, personal and even dramatic.
When WWII began, Lily was 17 and her sister Ivy was 15. This is their story told through letters, diaries and personal reminiscences. Lily and Ivy grew up in London. When war came, they both did their bit. Lily drove staff officers around; Ivy worked in a factory as a "Bomb Girl."
As the war was coming to an end, they both met and married soldiers. Both these men were from Canada. When the war was over, Lily went with Tom to a farm near Winnipeg, Manitoba, Canada. Ivy returned with John to a small city outside of Toronto, Ontario, Canada. The two war brides exchanged letters for a period of years, even after Lily left Tom and returned to London.
This is a collaborative work. It requires sorting through the many personal letters, looking through the entries in diaries and talking to both Lily and Ivy. Since Ivy is quite elderly, the process is slow. The daughters of both women are helping to complete the project.
These particular memoirs are fascinating. They tell the life of two women over a period of decades. The material of their lives would make a great novel. It could even be a documentary or a film.