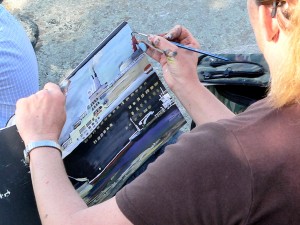 A travel journal, which may also be called a travelogue, is a true treasure to find. These individual journals or diaries about a holiday, vacation or a road trip that may have lasted weeks, months or years make an amazing record of a very specific part of a person's life.
Many old styles of travel journals include more than just details about the trip; they also act as diaries of the experiences that the traveller or travellers encountered. This means they may include impressions, funny anecdotes, mementos and brochures or even copies of pamphlets, menus or receipts. These documents and keepsakes, when scanned and added to a book version of the travel journal, provide an authenticity and interest level to the diary entries.
Other travel journals may include hand drawn maps, recommendations for great restaurants or must see and do things in specific locations around the country or around the world. Turning this handwritten account into a hardbound, spiral bound or soft back book is a perfect anniversary gift for a couple, or a great gift for the younger travellers in the family.
You can add specific details to the information, or even update highlights to see in the area and travel options. This text can be worked in throughout the original information, or it can be contained within a separate chapter or section of your book.
Preserving Art
Sketches and drawings can be relatively rudimentary and basic, or they can be elaborate works of art. Many people have drawing and sketches that they have done throughout their life that are just sitting in box, drawer or filing cabinet somewhere in their home.
Compiling a bound copy of a sketchbook is a wonderful way to keep these precious drawings and sketches in a durable format. With new technology, the images can be scanned and scaled to size to fit within a book. With colour copying and printing, the exact tones and colour choices can be replicated, allowing you to retain the originals
One interesting option to consider when creating a book of sketches or drawings is to also provide details about the artist, or the meaning or importance behind the sketch. The text can be included around the artwork, to give the reader a true perspective on the image they are seeing as well as an insight into the thoughts and emotions of the artists at the time it was created.
These unique types of books make terrific coffee table books and gifts. They are also a wonderful way to pay tribute to someone's life, travels and talents.