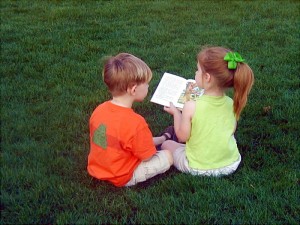 Have you always had flair for writing short stories? Are you one of those very talented people that can make up a tall tale on the spot to entertain your kids or a group of your friends? If you are, then you really do have a true gift – and one that definitely needs to be shared.
Perhaps you tell your children stories, but have never thought about writing them down.  Dictate them and we can make them into your very own storybooks for your children!
Going through all the hassle and effort to submit your short stories or tales to a publisher is no longer necessary. We can provide you with as many copies as you need of your very own professionally bound story compilation, without having to wait for a publisher to respond.
Our team can work with your existing stories in whatever format they may exist. They can be handwritten, typed in, papers stuffed in an old box, or they can be in fully electronic format. We can also work with any combinations of the above, to get your full collection ready for publication.
Lots Of Ideas But Very Little Time
There are thousands of budding writers out there that have terrific ideas for stories of all types, but just do not have the time to sit down and write. Our team of ghostwriters is what you need to address this very common problem. You can provide us with ideas, outlines or summaries and we can flesh out your stories and tall tales to create just what you want.
Since these are all ghostwritten, you retain full copyright and ownership of the stories. We do not use your stories elsewhere, and your amazing ideas will remain your own. You will also be free to claim you are the author of the stories, which is the case after all.
Organization
Prolific short story writers may find it difficult to sort through their stories to create some type of logical presentation. The team is able to do this for you and make suggestions as to how organise your work into meaningful sections within the book.
Often during the material review process a natural organisation presents itself to the team. This could mean structuring the book to highlight stories with different themes or perhaps a more chronological organisation makes sense. You will, of course, have final say as to how you want to structure your book.
Adding Art and Information
You can combine your short stories with artwork that you provide or that you select. The team can use the art to help to create just the style and appearance that you want in your published copy.
Artwork can include your own personal sketches, photographs or images, and can be as creative as you like. If you want to team to choose the art or illustrations, we are able to happily provide this service for you as well.