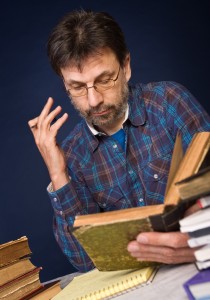 Biographies are a wonderful way to record specific events or an entire lifetime.
Biographies, unlike memoirs, are not written about oneself but rather about someone that the author knows, has researched, or has the ability to communicate with about their life. Biographies may include a person's entire life story or they may be limited to a particular period or time or part of a life.
Biographies provide current and future generations with information about aging family members or deceased individuals. Parents often want to leave a lasting legacy for their children about grandparents and important people in the family that may no longer be present.
Writing a biography provides this opportunity. It is also a wonderful way to connect with family roots and learn more about your own history. Information for biographies may be found through talking to relatives, searching old photograph albums and even doing online genealogical research.   People may choose to write biographies about living or decreased relatives, or non-family members that were or are influential, important or meaningful in some way.
People that have never tried to complete a book may see a biography as an immense project that is really beyond their ability and scope of expertise. In fact, writing a biography is not as difficult as you may think. We provide a full ghostwriting service that takes all the stress and challenge out of the project for you. All you need to do is provide us with the basic information, and we can do the rest.
Sources Of Ideas and Information
The internet has made finding information much easier and often much quicker. Many online sites offer historical data, including information about specific events covered by newspapers, reports or even through books that are now available in digital format.
Great sources of specific information including dates, names and events can be found in:
Personal journals
Diary entries
Old resumes
Professional awards and honours
Old newspaper clippings
Photograph albums
Scrapbooks
In addition, in most families there is that one person that takes on the role of the historian and recordkeeper. This individual may keep journals, diaries or some type of record of special events, and would be more than happy to share their knowledge with someone that appreciates their efforts.
Talking to anyone that knows the individual you are writing the biography about can also help you to determine the most important parts of their lives to include in your book.
Focus On Major Events
While a biography may be a full life narrative from birth to the present, you don't have to include every minor detail. You have the ability to pick and choose those events in the person's life that you find important, or that provided you with the most cherished memories.
Biographies do not have to follow a strict chronological order. For example, you can focus on clusters of events that shaped the individual. Perhaps they were an inspiration because of their educational achievements, or perhaps you admired their work within their community – and these may become the focus of your biography.
Focusing on major life events also helps to keep the text interesting. Add the details that you recall, or talk to others to help flesh out the event fully. You should most definitely describe their thoughts, emotions and reactions as accurately as you can. Interviews with the individual, if possible, can provide incredible details to add.
Our team is available to help you to fully develop the ideas for your biography. By adding photographs and supporting documents to your story provides a real world aspect, that is sure to bring the individual's life into focus – and we can help with this too. Your readers will finish your book feeling they have just found a new friend and a source of inspiration.