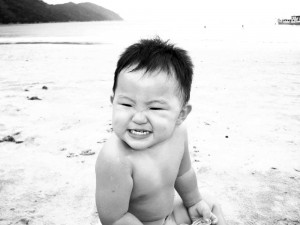 Imagine the joy that a grandparent, godparent, family member or family friend will get when they receive a book all about a special child in their life. Kids are one of the easiest subjects for a book because they provide so much material to use. Harvesting this material and writing it down is all you need to do to get started on a book that documents and highlights your own exceptional child or children.
Important Milestones
Unlike adults, kids have something new and exciting happening on a regular basis. Think of all the important milestones your child meets in the first few years of his or her life. They will:
Smile for the first time
Call Mum and Dad by name
Sit up, roll over and crawl on their own
Take their first step
Have their first interaction with the family pet
Play with their toys
Sleep in their own bed and not the crib
Get their first tooth
The list goes on and on from here. Imaging having the ability to create a beautiful hardbound, soft back or spiral bound book about your child's life through the years. With the ability to snap digital photographs from your camera, Smartphone, tablet, iPad or even your laptop keeping a photographic record of these milestones has never been easier.
Funny Events
Your child's life won't all be monumental milestones; there will also be some silly events and funny anecdotes along the way. Making a short note of these sayings, activities and general silliness allows you to add humour and light heartedness to a book about your child's life.
These funny events may include other relatives and friends, which is another way to keep memories and precious interactions within the family as part of a permanent record. Without having these written down they can be forgotten over time, perhaps limiting a child's understanding of the role that these individuals had in their early life.
Adding The Details
Scanning images from the child's first drawing, the first report card from school or even the first 100% on a spelling quiz or mathematics assignment also makes for great reading. The people that care about your children will love these types of books and, if you do them yearly, you can continue to add to their collection for years to come. Even if the individual is not able to see your child on a regular basis they will feel very much in the child's life.
Lasting Memories
While these books make terrific gifts for family and friends, they are also a gift you can give to your child when they are older. These books will be a wonderful experience to share with grandchildren and will help to keep memories of childhood alive with the simple turn of a page.